Asian Lady Beetles vs. Ladybug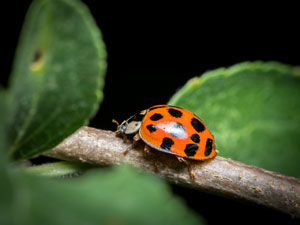 Asian lady beetles look similar to ladybugs but are actually a different species. Asian lady beetles are much bigger and can be helpful in your garden because they prey upon insects that feed on your plants, but they also eat those plants occasionally.
How to Get Rid of Asian Lady Beetles
During the fall, these pests will try to seek refuge indoors. You'll know that you have an infestation when you see large numbers of beetles on your walls (interior or exterior), windows, or even on your ceilings and other surfaces in your Fargo-Moorhead or Minnesota lakes area home.
To keep these pests from getting inside, ensure that all gaps or cracks to the outside (seals around windows and doors, cracks in siding and foundation) are repaired and sealed tight. You can eliminate these pests by using a vacuum. It's worth calling in an exterminator to help you determine the cause of the problem and help you get rid of the bugs properly. 
Exterminating bugs, rodents, and pests near Fargo and MN lakes area!